OUR BUSINESS
We are specialist for Caribbean,
Central and South American markets
Caribbean,Cenral and South America – the words bring to mind Latino exuberance, lively music as salsa and merengue, a unique culture combining influences from Western Europe and West Africa, and the endless deep blue of the Caribbean Sea. Especially,Caribbean islands have long been a popular holiday destination for people from Europe and North America.
KOWA is a Japanese trading company specializing in Caribbean, Central and South American region, where we have been operating for over 30 years, since 1982.
We have been exporting high quality brands of automobile tire made in Japan and other Asian countries to these countries, which is our core business. Also, we have been handling various automotive products and motorcycle, room air conditioner and so on.
The key to speedy business development especially in Caribbean, Central and South America is to work in partnership with a trading company that knows the locality well. KOWA has a long history in this region, full of business success stories. Our office in Santo Domingo, Dominican Republic is staffed by 2 Japanese employees and Panama office in Republic of Panama has 1 Japanese staff, who work with local employees to build local sales networks and collect information. The thoroughness and attention to detail for which Japanese companies are famous is one of our major strengths. At KOWA, we first make sure that we thoroughly understand your requirements and your products, and then we use our extensive local information network to collect the most valuable information, which we provide to you and use to construct the most effective sales network for your products. Our wide – ranging support also includes proposing and deploying long – term market strategies. This is the powerful partnership we offer to ensure that your business succeeds.
You can rest assured that, with the specialist services of KOWA working for you on the ground, your business in Caribbean, Central and South American markets will succeed.

Our Business Style
KOWA is a trading company with a particular flair for creative business. Offering all the coordination expertise you expect from a trading company, we are always ready to provide new ideas for opening up new markets and developing new business styles.
KOWA is especially good at opening up new markets and creating the framework for supplying products. Since our establishment, we have created and established one new market after another. We work to pick up on every new change in the business environment and to find the best new products and supply methods to reflect these changes in our operation.
At same time, by supplying the best of the many excellent products produced in Asia, employing strategies to maximize the cost merits, we have brought many benefits to the people of Caribbean, Central and South American region.
As the business becomes more and more global and our customers' requirements become more complex, we have developed a global style of trading that includes intermediary trade and joint ventures.
At KOWA, our first priority is to provide customer satisfaction. In addition, we like to think that we supply not individual products but rather the value and merits generated through the products in the daily life and work of the people of Caribbean, Central and South American countries.
The most critical element in our style of doing business is our excellent and highly skilled staff. We work actively to pursue and attract talented young staff members, assign them important work, and train them to be the international traders who can be of most service to our customers and local people.
Our Business Principles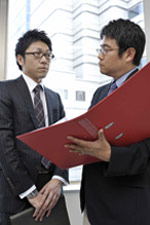 Since our founding, our guiding principles have been "hard work" and "integrity". We also have valued the basics above all else. Our first priority in the pursuit of business is to build relationships of trust.
First, we are committed to working hard, without shrinking our responsibilities in any situation, for the benefit of our customers, society, and our own families. In addition, we take care to respond to everyone and every situation with integrity.
Because every member of the KOWA team embraces these principles of "hard work" and "integrity", we have been able to build relationships of trust with our customers and overcome numerous difficulties. Despite differences in culture and business practices, hard work leads to improved service, and integrity results without fail in relationships of trust.
We value our customer highly, so it is important to us to build strong and solid relationships that will last for many years. Our operating principles come from this basic desire. As the age of information progresses, business is sure to become even more efficient, but whatever else changes, our basic principles of "hard work" and "integrity" will remain unchanged.